Have you ever seen the fruit that seems in-between the apple and the pear? It's called quince and can be found in your local grocery store in certain times of year. What does this fruit taste like?
Quince is a firm, sometimes tart, thin-skinned pale yellow or green fruit, similar to the apple and the pear. Eaten raw it has a bitter and grainy taste. When eaten cooked, the quince becomes soft and subtly sweeter.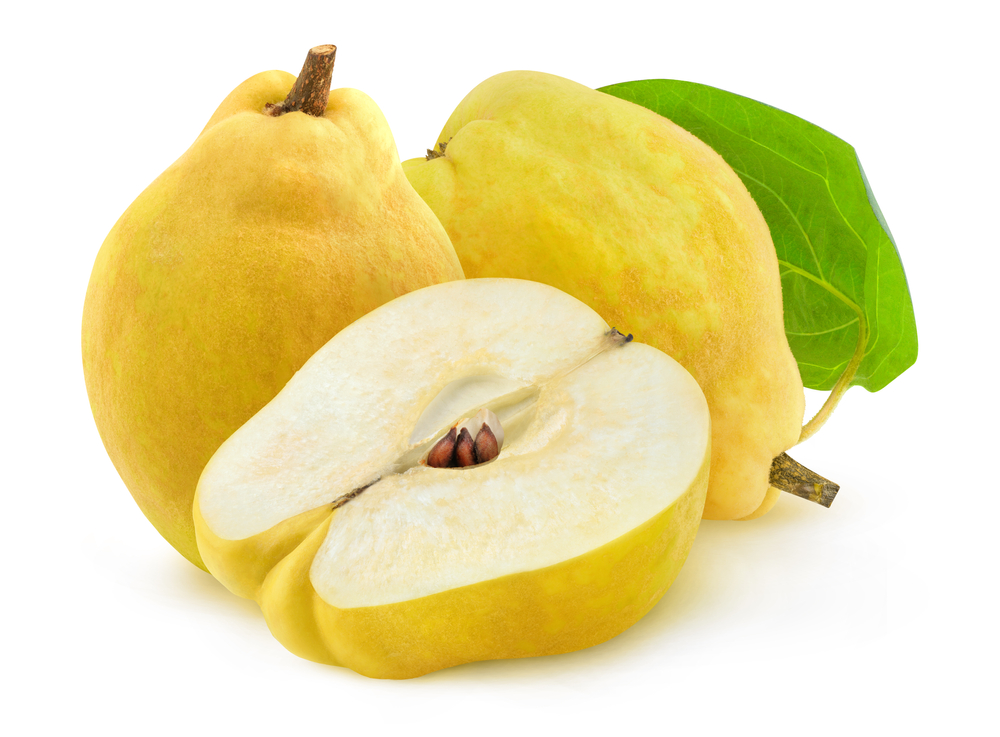 Where Can Quince be Found?
Quince is a fragrant fruit that is often offered to brides on their wedding days as symbols of fertility. Other times, quince is found in the supermarket between the months of October and December. They can be spotted by their lumpy, pear or apple-like appearance.
What Does Quince Taste Like?
A quince should be thoroughly washed before eaten. Although it does not have to be scrubbed or peeled, one may find that the skin of a quince is leathery, thin, and bitter. A raw quince will have rough, grainy flesh that is tart and sour.
This is why quince is often poached before it is added to other recipes. Quince is better eaten cooked and can also be prepared to fit into any dish, whether sweet or savory. When cooked, quince becomes softer and has a subtle sweetness to it.
Cooked quince has a soft skin and sweeter flesh. This texture in the quince allows for it to become further things like marmalades, jams, and jellies. Sweeteners, thickeners, and other preservatives can be added to make quince as tasty or sweet as one wants to.
Quince's Cousins, the Apple and the Pear
Quince doesn't have any close cousins in the food world on its family tree, but the apple and the pear are very similar to it. Quince can be used in a variety of dishes, from sweet to savory, just like apples and pears. Quince can be partially cooked, sliced and added with apples to bake into an apple pie or shredded and turned into a paste that can be used on roasted meats.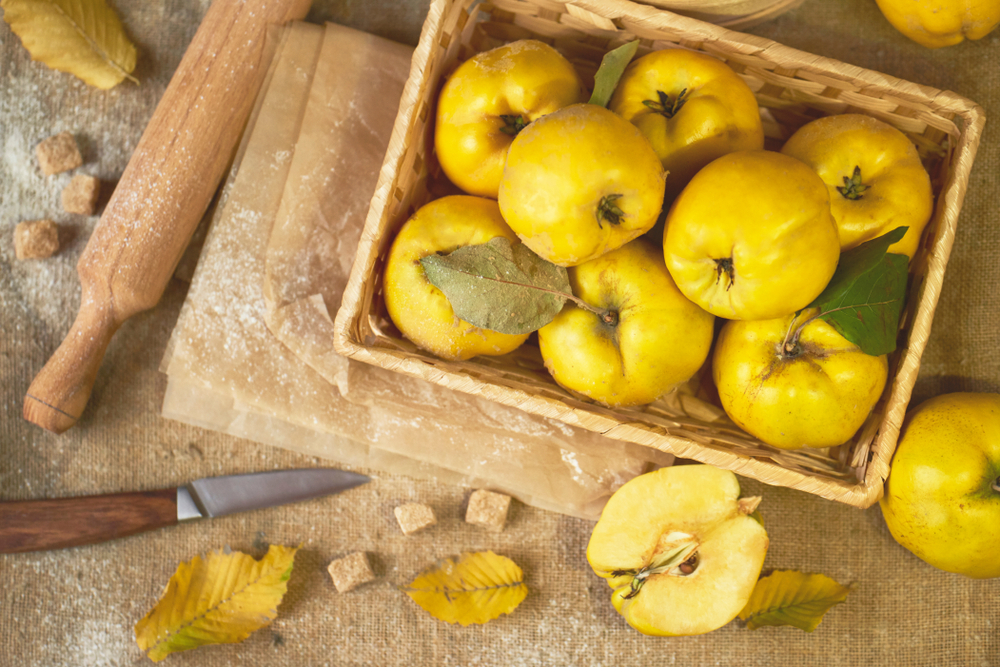 How to Prepare Quince
Quince, once bought or picked fresh, should be washed when brought home. The inner core of quince is inedible and cannot be eaten. This is similar to how the cores of apples and pears are best thrown away. While quince can be used in a variety of dishes, it can be sliced and consumed raw.
When consumed raw, however, the taste of the quince is bitter and tart. The skin is leathery and the flesh is grainy. If one can get past these qualities, then they can enjoy a sweet treat. Most others prefer to at least poach the quince before they slice and consume it.
Poached quince can be cut up and used in many different recipes. These can include jams, jellies, marmalades, and a special paste you put on things like pork roast, or roasted chicken. Using a paste of quince on pork or chicken roast not only adds a tart flavor, but also helps to tenderize the meat in the cooking process.
How to Make a Meal with Quince
Although quince can find its place among savory dishes, it is often found in the sweeter section of a cookbook. This is how you can make a sweet dessert: Quince Pie:
Crust Ingredients
2 cups all-purpose flour
1 tablespoon sugar
1 teaspoon salt
1 cup unsalted butter, chilled
3 tablespoons ice water
1 tablespoon apple cider vinegar
Pie Filling Ingredients
3 lbs of quince, peeled, cored, and cut into slices about ¼-inch thick
¼ cup honey
1 cup brown sugar, divided
1 teaspoon salt, divided
½ teaspoon ground cinnamon
3 tablespoons all-purpose flour
3 tablespoons butter
1 tablespoon fresh lemon juice
To Create the Crust
Combine the flour, sugar, and salt
Add the cold butter to the dry mixture, and work it together until the dough resembles crumbs and all of the big pieces are gone
Put the dough onto a clean surface
Add the cold water and vinegar
Knead the dough until it comes together, be careful to do it for only a few minutes
Divide into two circles about 1-inch thick.
Wrap in plastic wrap, and put them in the refrigerator for at least two hours
Dust a clean work surface with fresh flour and roll the dough into an 11-inch circle
Roll up the dough and transfer it to a 9-inch pie dish
Crimp the edges, cover the pie shell with plastic wrap, and refrigerate for another two hours
To Create the Pie Filling
In a saucepan, put the quince slices, honey, ¼ cup sugar, ½ teaspoon salt, and 2 cups water together
Bring to a boil, then reduce to low heat to simmer
Stir often and simmer until the fruit is tender, this will take about twelve to fifteen minutes
Strain out the quince, and keep the liquid in the pan
Combine remaining brown sugar, ½ teaspoon salt, cinnamon, and flour in a small bowl
Add the dry ingredients and butter to the saucepan with poached quince liquid and bring to a boil
Reduce to medium heat and simmer until thick. This should take no longer than two to five minutes
Remove from heat and set aside
Stir in the quince and lemon juice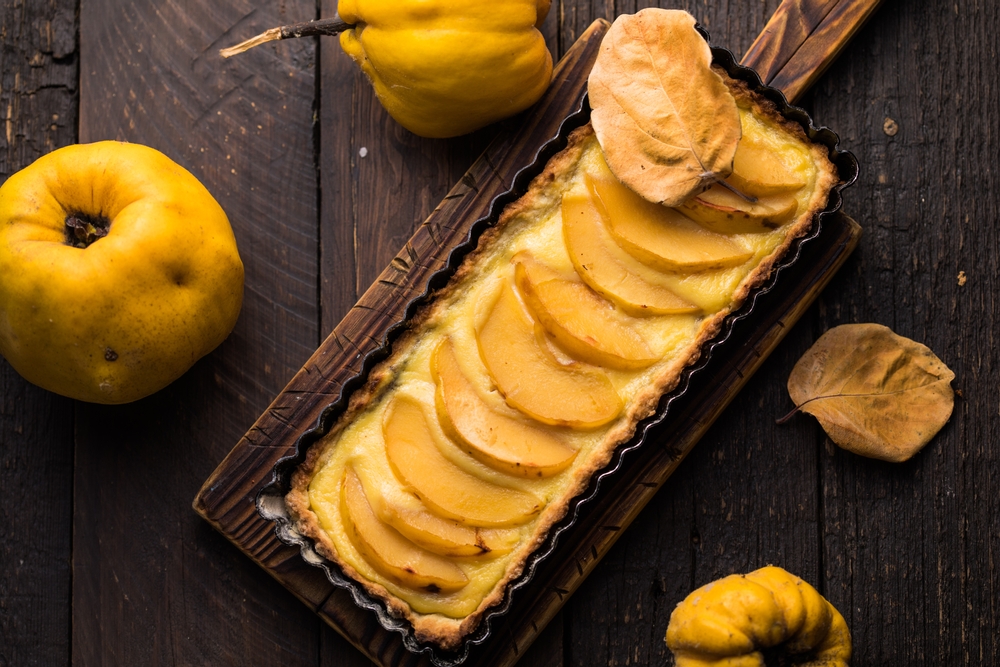 To Pre-Bake Crust
Preheat the oven to 350 degrees Fahrenheit
Line the some aluminum foil along the dough and weigh it down with a pie weight of some sort
Bake for 15 minutes, until golden brown and firm
To Bake the Quince Pie
Roll out the remaining dough disc into a 9-inch circle on a floured hard surface
Add the pie filling to the bottom crust
Put the top crust on top of the pie
It is important here to lightly brush the top of the pie with a light egg wash
Make cuts in the top of the pie so it can breathe while it cooks
Bake about 45 minutes or until the top looks golden brown
Let the pie cool on a rack for about ten to fifteen minutes
Serve with ice cream or whipped topping and enjoy
Quince can also be served in savory dishes. One can toss together any number of sliced vegetables and fresh herb combinations and olive oil on medium heat and add quince to make it just a touch tart and sweet. Quince jams and jellies are added to slices of pork roast for definitive tart flavors that balance out a meaty pork taste.
Conclusion
Quince is a fragrant fruit that can be found in the grocery store from October to December. It has a decidedly tart and sour grainy flesh, with a thin leathery and bitter peel. Quince is best eaten at least partially cooked, as it becomes a little more soft to consume and sweeter to the taste.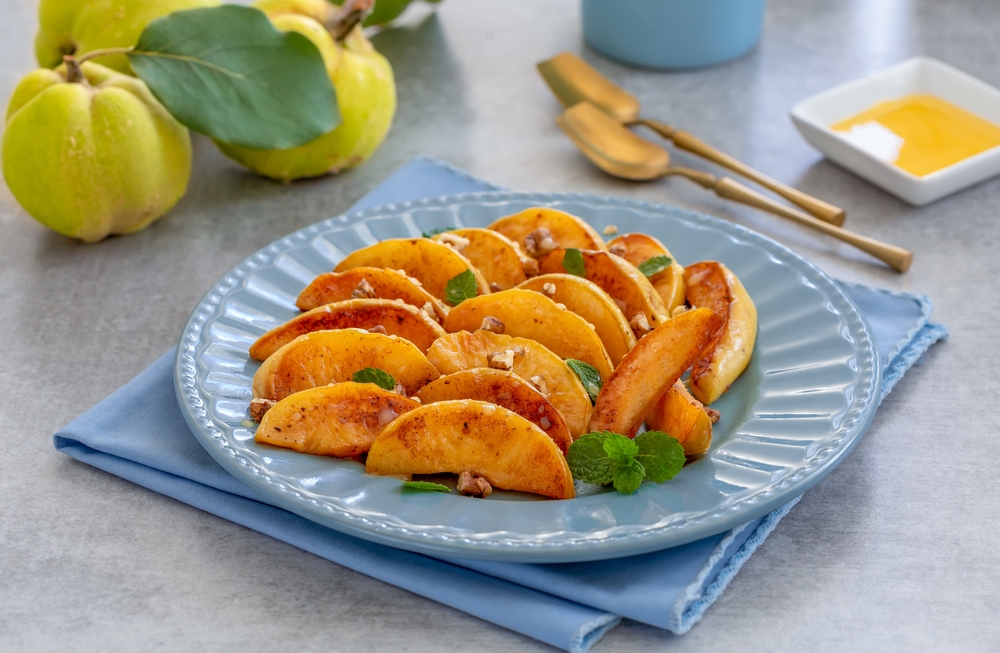 Quince can be used in a variety of dishes that include sweet and savory options. One of the favorite recipes for quince is to add it to apple pie, or to make pie just out of quince itself. In this way, quince is notably sweet and provides a tart addition to any dessert.
This fruit can also be used in savory dishes alongside vegetables and meats. It can also be used as a paste to provide flavor and meat tenderizing qualities to dishes.