As the name indicates, oxtail comes from the tail of cattle. You might be thinking you could never eat cow tail, but this cut of meat has a rich history and even richer flavor. Considered a delicacy in the United States and Europe, this meat has fallen from favor in everyday use. Oxtail is more commonly used in everyday cooking in countries that still utilize a nose-to-tail approach to meat.
Oxtail tastes like beef, and when slow-cooked, it develops an intensely deep rich flavor. The meat is very tender and gelatinous due to the high amounts of cartilage in the tail. It is similar in taste to a braised short rib, though it has a silkier texture. Some people call oxtail the food of the gods, which should clue you in on how great this cut of meat can be.
What Meat is Similar to Oxtail?
Oxtail is similar to beef neck bones, beef shanks, beef short ribs, veal neck, and veal shanks. These cuts of meat can all be used as substitutes for oxtail in recipes.
Where to Buy Oxtail
Since oxtail is considered a delicacy, there is no guarantee that your local grocery store will have them in stock. A local butcher shop is a safe bet, and online they are readily available for shipping. Oxtail is considerably expensive, and there is not a lot of meat on the bones. Oxtail typically costs around $10 a pound, and organic nearly double that price.
Is Oxtail Healthy?
Oxtail is rich in fat and collagen, which is great for keeping skin looking firm and supple. Collagen is crucial for the health and growth of skin, hair, and nail. Asian countries have long used oxtail broths and braised livestock feet for this purpose.
How to Cook Oxtail
The name of the game is low and slow. Oxtail is a tough cut of meat and needs slow, moist heat to break down all the connective tissue, cartilage, and bone marrow. Using a slow cooker is an ideal method, although a pressure cooker can be used if you are pressed for time.
Oxtail Cooking Times
If you are using a slow cooker or crockpot, a general guideline is on the high setting for 2 ½ to 3 hours.
For a pressure cooker, it is 50 mins to an hour. Consult your pressure cooker manual for more detailed instructions.
Popular Oxtail Recipes
There are many great ways to enjoy this delicacy. Cooking it yourself is probably the easiest way to. If you need help getting started with cooking at home, here is a great resource. Check out some of the top oxtail recipes:
Jamaican Oxtail Pressure Cooker Recipe
This flavorful recipe is popular in Jamaica, where oxtail is a commonly used meat choice for special occasions. This recipe can be cooked in either the pressure cooker or slow cooker, resulting in meat that will be tender and fall off the bone.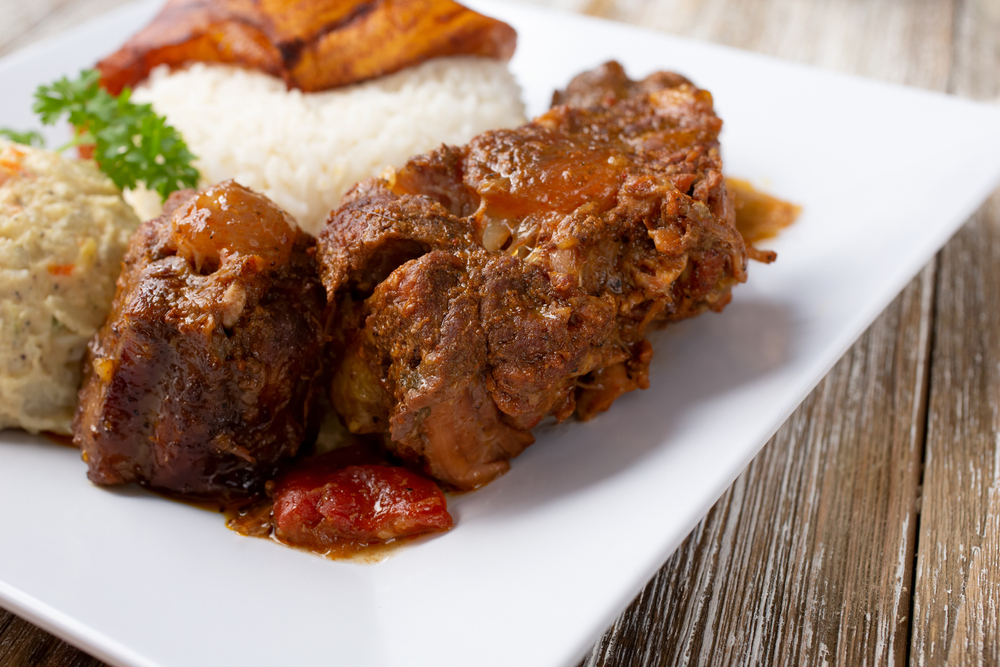 Ingredients:
2.5 lbs oxtails
¼ cup brown sugar
1 Tablespoon soy sauce
1 Tablespoon Worcestershire Sauce
1 Tablespoon salt
2 teaspoons garlic powder
1 teaspoon black pepper
1 teaspoon all-spice
1 teaspoon browning
2 Tablespoons vegetable oil
1 yellow onion chopped
4 green onions chopped
1 Tablespoon garlic chopped
2 whole carrots chopped
1 scotch bonnet or habanero pepper seeds and membrane removed and chopped
1 cup beef broth
1 Tablespoon ketchup
1 teaspoon dried thyme
2 Tablespoons water
1 Tablespoon cornstarch
1 16 oz can butter beans drained
Instructions:
Rinse the oxtails with water and vinegar and pat dry. Cover oxtails with brown sugar, soy sauce, Worcestershire sauce, salt, garlic powder, black pepper, all-spice, and browning and rub into oxtails.
Set Pressure Cooker on High Sauté, and once hot, add the vegetable oil. Next, add your larger oxtail pieces to the pot, flat side down about ¼ inch apart, and brown on each side.
Remove the oxtail after browning and place it in a bowl.
Deglaze your pressure cooker by adding about 2 Tbsp of beef broth to the insert. Take a wooden spoon and deglaze your pot by removing the brown bits at the bottom. Then add your yellow onions, green onions, carrots, garlic, and scotch bonnet pepper. Stir and sauté for about 5 minutes or until the onions have softened.
Add dried thyme, oxtails, remaining beef broth, and ketchup to the pressure cooker insert.
Press "Cancel" on your Instant Pot. Cover and cook on high pressure for 45 minutes. Once the timer is done, allow the pressure cooker to naturally release.
Once all pressure has released, open the lid and remove oxtails and vegetables, leaving the liquid behind. Turn the Pressure Cooker on sauté. Once the liquid begins to simmer, create a cornstarch slurry by combining corn starch and water in a separate bowl. Stir into the simmering liquid. Add drained butter beans into a pressure cooker and simmer for about 5 minutes, until liquid is slightly thickened and butterbeans are warmed.
Add the oxtails and vegetables back to the pressure cooker. Serve and enjoy
Braised Oxtail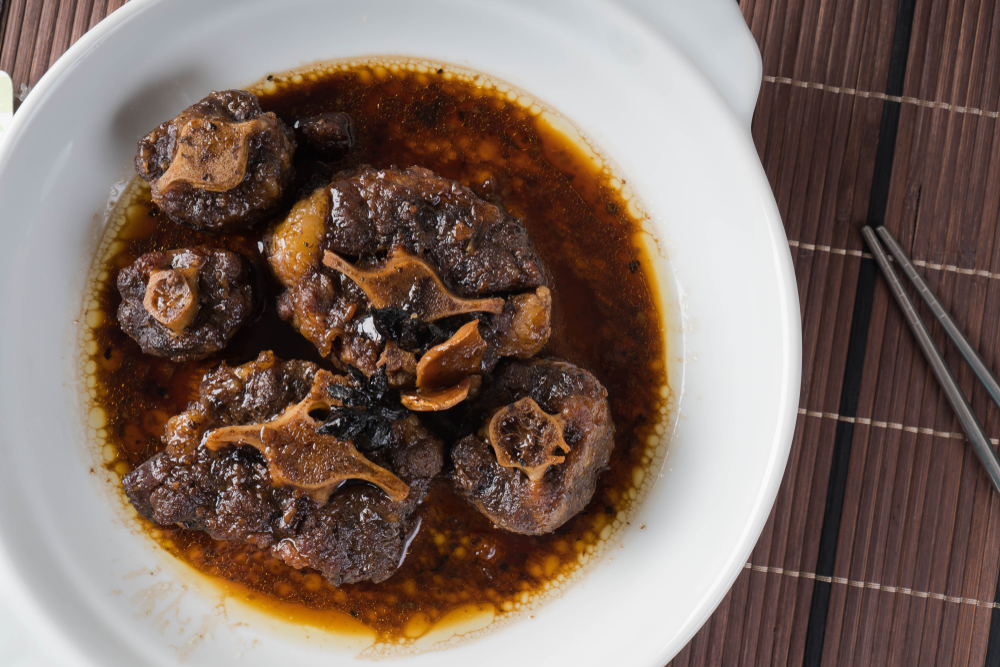 Braising oxtail is a wonderful way to tenderize this tough meat while maximizing the deep meaty flavor. It is one of the most standard methods of preparation.
Ingredients:
2 tablespoons olive oil
2 pounds oxtails
1 1/2 teaspoons salt
1 teaspoon black pepper
1 tablespoon minced garlic
2 cups beef broth
2 tablespoons Worcestershire sauce
1 pound baby carrots
10 ounces pearl onions
15 ounce canned diced tomatoes undrained
1/2 teaspoon dried sage or 1 tablespoon minced fresh
1 sprig fresh rosemary
Instructions:
Preheat the oven to 300 degrees Fahrenheit. Heat olive oil in a 5-quart dutch oven on the stovetop over medium-high heat.
Season oxtail with salt and pepper. Sear in the dutch oven for 8 minutes, rotating the oxtails every 2 minutes until all sides are seared. Remove the oxtails from the pot and set them aside.
Add garlic into the pot and cook for 2 minutes, Slowly pour in beef broth to deglaze the pan, scraping up any bits stuck to the bottom. Pour in Worcestershire sauce.
Return oxtails to the pan and add in the carrots, pearl onions, tomatoes, and sage. Stir to combine so the meat is submerged in the liquid. Top with rosemary sprig.
Place the lid on the dutch oven and transfer it to the preheated 300-degree oven. Cook for 2 1/2 to 3 hours until the meat is tender. Serve hot.
Final Thoughts
While oxtail may not be available to order at most restaurants, this flavorful delicacy is worth giving a try. Armed with the recipes above and an adventurous palate, you can grab this oxtail by the horns.