Anyone who has tried rhubarb knows that it's a tasty vegetable to add to pies and desserts – but it isn't around very long. Rhubarb is most commonly available at grocery stores and farmer markets in the late spring, then poof – it vanishes for the year.
The question remains, can you preserve rhubarb in some way to make it available year round. Not everyone likes eating all the rhubarb right away. How about making an awesome rhubarb and strawberry pie in the late summer or early fall. Talking about pie learn how to freeze pies for storing.?
The good news about rhubarb is that you can freeze it. The better news is that unlike some vegetables and fruits, rhubarb freezes pretty well. We will discuss further preparation for getting the most of your rhubarb while it's chilling out.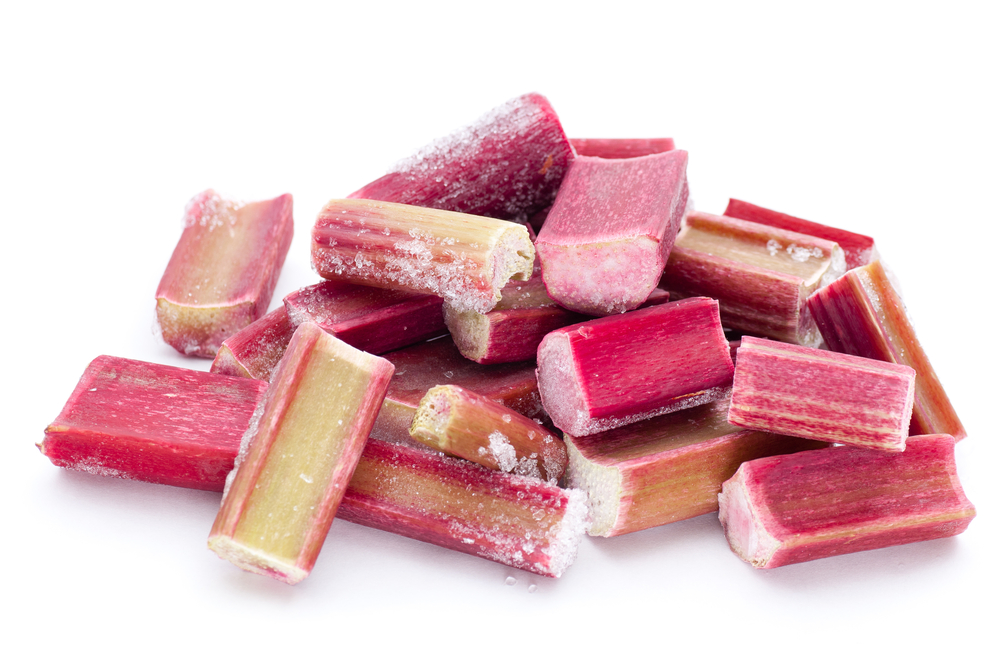 How to freeze rhubarb
One of the most important things you need to do before freezing rhubarb is to remove the green leafy parts. These parts are actually somewhat toxic to humans and can cause stomach issues when eaten in large amounts. In more serious cases, they can cause kidney stones or kidney failure.
So chop em off!
While not absolutely essential, there is a step called 'blanching' that helps preserve rhubarb in the freezer. Blanching involves briefly boiling the vegetable, followed by cooling it in water, then freezing. Here's the step by step
While boiling a pot of water large enough to hold all your cut up rhubarb, start chopping the rhubarb into ½ to 1 inch pieces
Prepare an additional pot of water, but with colder water. Cold tap water should be fine for this situation.
Once the pot is boiling and your rhubarb is cut up, put all the rhubarb in the boiling pot of water.
Let the rhubarb boil for about one minute.
Promptly remove pot from the burner and strain in a colander.
When the rhubarb is fully drained, put it in the pot of cold water for about two minutes.
Spread the cut and chilled rhubarb on a baking sheet in a single layer.
Put the tray in the freezer if you can fit it. Let sit for about 2 hours.
Once fully frozen, move the rhubarb into a freezer proof bag that takes up less space.
Use either a vacuum sealer or a straw to remove excess air. For the straw, put the straw in the bag and seal around the straw. Suck excess air out of the bag then quickly remove the straw and seal.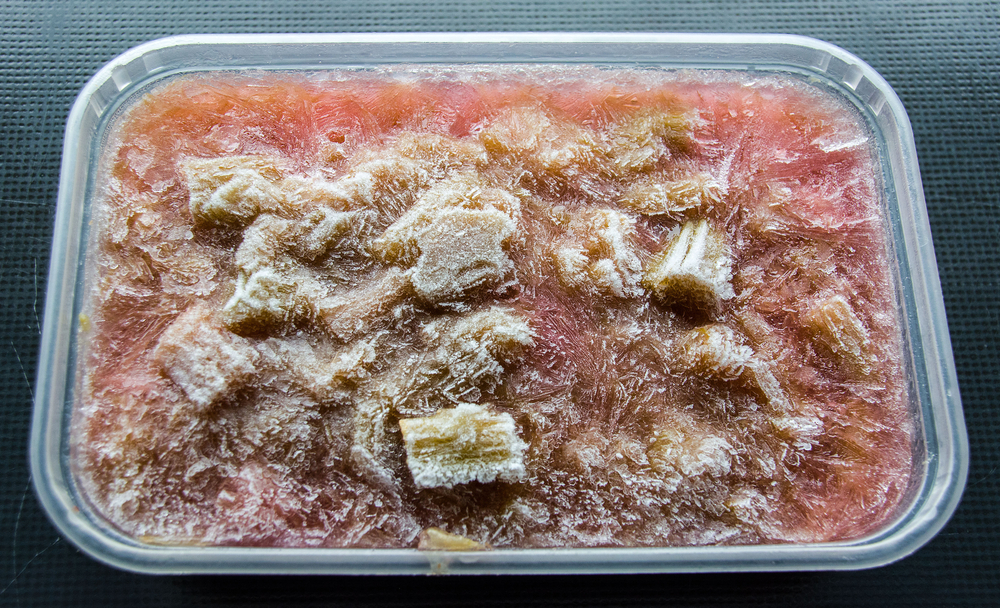 Why would I 'blanch' rhubarb?
Blanching slows the decay of the enzymes within fruits and vegetables. What you basically did was just barely start the cooking process, then stopped it with cold water. While you can get pretty high quality rhubarb just by freezing it, blanching more assures you'll get the same flavor and texture when you unfreeze rhubarb.
Blanching also preserves the color the rhubarb. If you intend to feature rhubarb on top of your pie or otherwise want to make a visual out of the vegetable, definitely blanch it.
Do I have to blanch rhubarb?
You don't have to. You can still freeze rhubarb and get good quality. The method is quite similar, too.
You will probably want to cut the rhubarb into ½ to 1 inch pieces to fit better
Put the cut up pieces in an airtight container or in a zip lock bag. Another consideration is wrapping the bag in aluminum foil if your freezer is extra cold.
Consider labeling the bag with the amount of rhubarb and the date it was frozen
Throw it in the freezer
How about thawing rhubarb from frozen?
Rhubarb can be added directly to your pie or baking idea directly from frozen. So technically, you are unlikely to need to thaw rhubarb at all – in fact, it could become mushy if not baked directly from freezing.
This is also why we suggest you cut it up. Besides saving space, you don't want to give the rhubarb time to thaw – and cutting frozen veggies isn't as easy as cutting fresh.
How long can I freeze rhubarb?
Rhubarb is a good preserving vegetable that can be frozen up to a year while retaining quality. A more important factor in the length of freeze is preserving it properly. Use an airtight container or wrap a heavy duty zip lock bag in aluminum foil for the best performance.
Final thoughts
Rhubard is a vegetable that freezes well. Considering how little time you have to buy and use rhubarb, it's definitely worth prepping and throwing in the freezer. After all, you can make some fantastic pie and baked goods with the right amount of sugar.
Oddly enough for a vegetable that looks a bit like cabbage or lettuce when baked, it sure tastes better.